"Coming on like a beguiling hybrid of Patti Smith and Marianne Faithful...Rose's formidable array of assault weapons: a curling, insinuating voice at once coy and confessional; a natural storyteller's way with dynamics, and words that stand my themselves as intimate snapshots of family, friendship, and love won, lost, missed, regretted."  - THE SUNDAY TIMES 
"With a voice that sounds like a creamy cup of hot chocolate, mixed with a sprinkle of acoustic and electric guitar that resonates through the soul like that first throat-burning sip...full of swagger, resilience, and brilliance."  - DAILY MUSIC GUIDE 
"Nashville with attitude for the 21st century" - NME 
"Eileen Rose shows the single-minded spirit and intensity of Ani DiFranco, full of attitude and gritty, evocative portrayals of life on an emotional knife-edge" - MOJO 
"Makes you want to roar down the highway with the windows open and a finger on the repeat button" - ROLLING STONE 
"Like Lucinda Williams but with softer edges, Rose fuses country, honky-tonk and smouldering pop into something all of her own" - TIME MAGAZINE 
"She's a woman hot-wired to her muse and she knows exactly where her considerable talent is taking her" - UNCUT
"The intensity and poeticism of Patti Smith" - THE OBSERVER 
"She keeps you guessing, this Eileen. One moment she could be Chrissie Hynde staring you out in black leather, but elsewhere, amid the downhome rockabilly of Wheels Going By, Snake and Big Dog, you're more inclined to peg her into the Gillian Welch school of roots revival." - MOJO 
"Rose's songs sidle up and ambush you."  - THE SUNDAY TIMES 
 "Rose is capable of a kaleidoscope of emotion in the same song, injecting the tracks with a living, breathing reality and often singing like Emmy Lou Harris at her most brooding...shivers the soul"  - AMERICANA UK 
"Rough-hewn rock'n'roll...music constructed from the heart rather than the head"  - THE IRISH TIMES 
"Like a powder keg of gunpowder just waiting to go off...powerhouse live shows and passionately intense vocal delivery, Eileen does not disappoint."  - MAVERICK 
"Her voice, a tender, tremulous thing - soft and steely, wracked and wrought...this is songcraft of the highest order. Stuff that lingers long and nestles deep."  - TIME OUT 
"A gorgeous, clear, invigorating voice .... along with the similarly beguiling Neko Case." - THE GUARDIAN 
A feisty Boston singer with Italian and Irish roots ... starkly emotive and richly melodic songs in a country-blues style, sung in Rose's clear and invigorating voice."  - ENTERTAINMENT IRELAND
EILEEN ROSE - MUSCLE SHOALS #13 on the EuroAmericana Chart!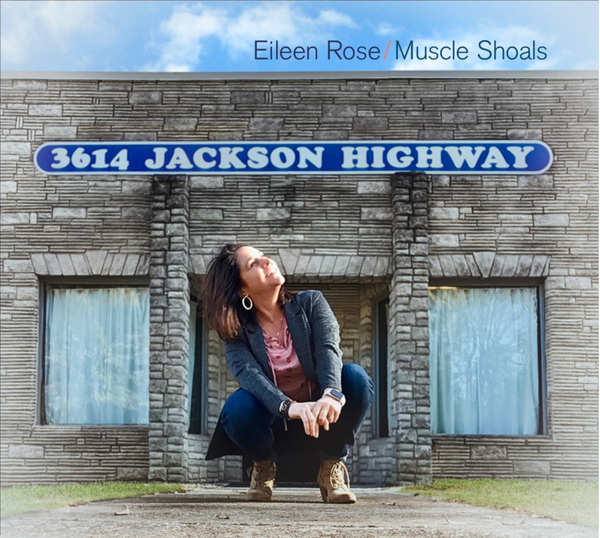 Well, damn! I'm blown away. 'Eileen Rose - Muscle Shoals' debuted at #13 on the new EuroAmericana Chart! 
Rich Gilbert, Chris Maclachlan, Steve Latanation, Paul Vos - I am SO PROUD OF US! 
Thank you Bert Pijpers, Hans Broere, Gerraint at G Promo, Chris Metzler, Sandra Zuidema and the whole team for supporting this album. We'll drink a toast to this all together someday. 🍻🥂
UK Praise for "Be Many Gone"
"An absolutely terrific album, I love the name of the record label and 'Space You Needed' is a fantastic track".  - BOB HARRIS, BBC Radio 2 
"Her attractive twang is enhanced by weeping pedal steel & fiddle. When Jimmy Clark's trumpet shakes up the formula on 'She's Yours' & 'Each Passing Hour' we are reminded why were so excited by her."  - UNCUT
"The songs are beautifully constructed with articulate, thoughtful lyrics with attractive melodies. A perfectly satisfying experience." - COUNTRY MUSIC PEOPLE  ★★★★ 
"Be Many Gone exudes the confidence of a singer & band that have 
honed their craft. Rose's finest to date." - R2 MAG ★★★★ 
"Be Many Gone ranks among Eileen-Rose' best work. The opening track is an absolute belter while 'Space You Needed'  is touching & beautifully sung. Rose proves throughout these nine tracks that she has quite a way with lyrics, with most of the songs about matters of the heart. " - PRESS ASSOCIATION
"Lyrics which can twist like a rattler... an album that can come recommended to any...."  - AMERICANA UK
  "If you like country music with European & folky twists this is definitely an album to check out." - MUSICRIOT.COM ★★★★ 
"Her distinctive vocals are a joy & set her above many of her contemporaries.  Another wonderful album chock full or her idiosyncratic quirkiness." - ROCK SOCIETY
"Her past releases have set Rose a high standard to match, but this easily pushes that to the next level". - NET RHYTHMS